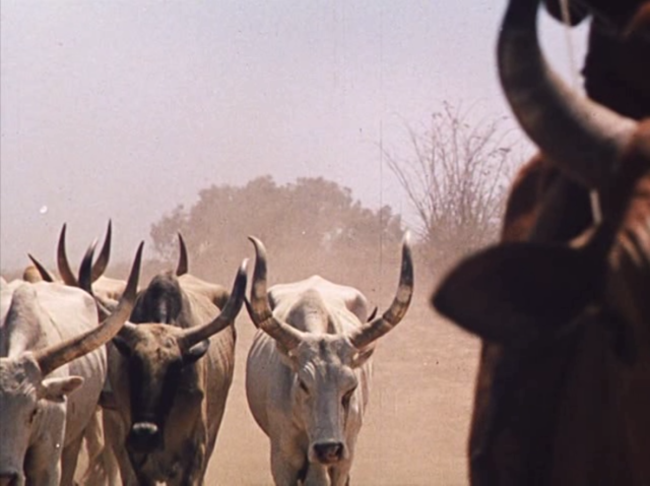 Mory, a cowherd, and Anta, a university student, try to make money in order to go to Paris and leave their boring past behind.
On a brisé la croix-totem d'un autre monde pour laisser entrer le désordre.
Rien n'a changé.
Qu'est-ce qui a changé ?
Touki Bouki s'est paré de peintures de guerre puis a longuement poussé son cri — ce cri strident des ironies désespérées, des révoltes aussi sûres d'elles — de leur justesse, de leur nécessité — que de leur inéluctable fin.
Le cri résonne encore, jusqu'à Bobo-Dioulasso...
Mory et Anta, Poiccard et Patricia, Bowie et Keechie, tout le monde a besoin d'un totem à brandir et d'une voiture-bélier pour traverser le monde...
Qu'est-ce qui a changé ?
Rien n'a changé.
Je ne crois pas que Touki Bouki était en avance, comme on le dit souvent des films qui se parent moins vite que nous de cheveux blancs et de rides profondes. Ce sont plutôt nombre d'images d'aujourd'hui qui sont en retard. Les bateaux continuent de traverser, l'argent de circuler, et le temps ne passe pas.
Mais Touki Bouki a laissé derrière lui, dessiné par les traces éparses de la mobylette à cornes, le visage d'une rébellion qui, un jour...
Qu'est-ce que ça changera ?

(Idrissa Ouedraogo et Gael Teicher)
Film choisi par
Idrissa Ouedraogo
Interprétation

Al Demba, Dieynaba Dieng, Assane Faye, Robbie Lawson, Magoné N'Diaye
Scénario

Djibril Diop Mambéty

Photographie

Pap Samba Sow

Son

El Hadj M'Bow

Décors

Aziz Diop Mambety

Production

Cinégrit
Idrissa Ouedraogo is a graduate of the African Institute for Cinema Studies in Ouagadougou. In 1981 he began to work for the Burkina Faso Directorate of Cinema Production, where he directed several short films. The short film Poko won the short film prize at the Panafrican Film and Television Festival of Ouagadougou (FESPACO) in 1981. After studying in Kiev in the USSR he moved to Paris, where he graduated from the IDHEC in 1985. Ouédraogo won the Grand Prix for his film Tilaï (The Law) at the 1990 Cannes Film Festival, and the FIPRESCI Award for his 1986 film Yam Daabo (The Choice). His 1993 film Samba Traoré won the Silver Bear at the 43rd Berlin International Film Festival.
RESTORED PRINT FROM THE FILM FOUNDATION / WORLD CINEMA PROJECT