Le Bois dont les rêves sont faits
The Wood Dreams Are Made of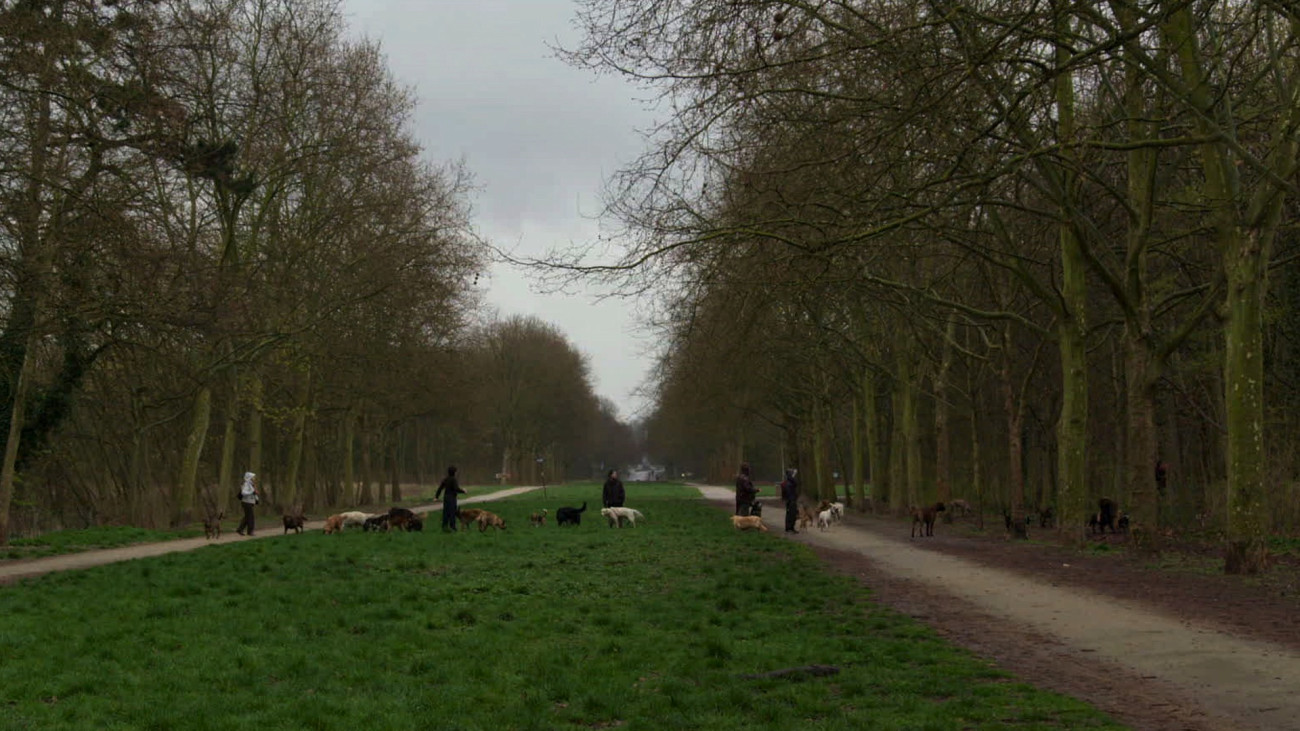 Like an accessible form of Paradise Lost, weekend trips to the woods offer a concentrated dose of well-being and a refuge in nature. A place where all life's possibilities enjoy the right to exist, a place for all, rich and poor, French and foreign, gay and straight, old and young, old-fashioned or trendy, a mirage dreamed up by the exhausted urban dweller. The woods as an island in the urban fabric, a place where the hardships of living in the city fall silent. A place to recover, to play and have fun, to dream. Over the course of the seasons, sharing with others as many utopias as can be dreamed up by as many individuals.
J'ai reçu une image où des vaches avec de belles cornes s'avançaient en troupeau dans une lumière éblouissante de chaleur et de poussière, j'imaginais la présence d'un berger sans le voir, j'étais sûre que cela se passait en Afrique et j'ai même cru reconnaître un film de Ouedraogo.
Du coup j'ai eu envie de répondre avec une autre image d'animaux. Animaux habitants de la mégalopole, animaux tels que je les vois ici dans nos vies urbaines. Ici au Bois de Vincennes où la nature artificielle s'emploie à ressembler à la vraie, des promeneurs de chiens travaillent. Ils me font penser à des bergers. Leur troupeau s'étend autour d'eux. En les filmant je revoyais des tasses de thé anglaises ornées de scènes de chasse. Le gentleman en veste rouge, bottes et chapeau, sur son cheval fringant… A côté, à pied le fermier tient la meute des chiens surexcités qui vont bientôt courser et déchiqueter le renard, seul animal à être chassé pour être détruit et pas mangé.

CLAIRE SIMON
Film choisi par
Claire Simon
Photographie

Claire Simon

Son

Gabriel Hafner

Montage

Luc Forville

Musique

Paolo Fresu

Production

Just Sayin' Films, Pio & Co, Tipi'mages Productions
Born in London in 1955, Claire Simon has made several short films, including La Police (1988) and Scènes de ménage (1991). She has also directed documentaries such as Les Patients (1989) and Mimi, screened at Berlin in 2003. In 1997 she made her first fiction feature, A Foreign Body which was selected for the Quinzaine des Réalisateurs in Cannes, as were her subsequent films Ça brûle (2006) and God's Offices (2008). In 2013, Human Geography and Gare du Nord were both selected for Locarno.
PREMIERE
Distributor: Sophie Dulac
Theatrical release (in France): April 6, 2016