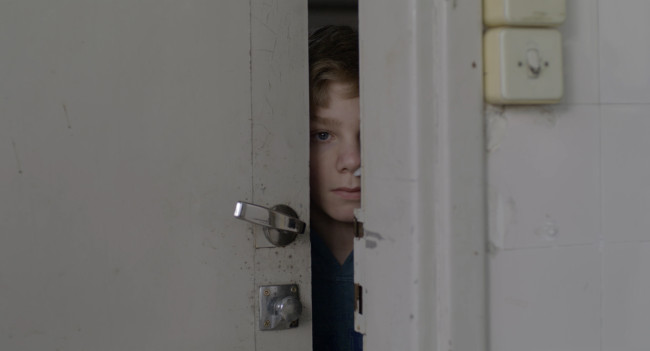 While his classmates prepare for the last rehearsal before the end-of-the-year show, Daniel, 10, gets lost in the school's corridors, and bumps into Marthe in the locker room. A new bond forms between the two children...
Comme dans Il était une fois en Amérique, c'est une scène de voyeurisme qui déclenche les tourments émotionnels qui vont agiter les personnages. Sauf que contrairement à Sergio Leone, ici tout le monde danse, filles et garçons. Circonscrit à une école presque hors du temps (si ce n'était pour cet exercice anti-attentat annoncé dès le début), l'action du film prend une emphase et une ampleur inattendues, portée par une mise en scène toute en travellings évoquant le style d'un Samuel Fuller, référence peu prisée par le jeune cinéma français. Un cinéma qui transforme le monde en une tempête d'émotions ; où les personnages semblent issus d'un rêve, familier et lointain à la fois. Daniel et ses camarades, comme en proie à la fièvre, font glisser le film vers une matière onirique, à laquelle même les quelques adultes qui les entourent semblent sensibles. (Victor Bournérias)

Sélection Premières Fictions Françaises *

*Film concourant uniquement au prix Gérard Frot-Coutaz
Interprétation

Théo Polgar, Madeleine Follacci, Tristan Bernard
Scénario

Marine Atlan

Photographie

Benoît Bouthors

Son

Elisha Albert, Paul Guilloteau

Montage

Guillaume Lillo

Musique

Jonas Atlan

Décors

Louise Le Bouc Berger, Elsa Noijons

Production

Nicolas Anthomé, Bathysphère
CONTACT:
Bathysphère, Nicolas Anthomé
contact@bathysphere.fr
Since graduating from La Fémis, Marine Atlan has worked as a Director of Photography with Louise Hémon, Benoit Bouthors, Caroline Poggi and Jonathan Vinel. Her first film as a director, Les amours vertes, won the Grand Prix at the Clermont-Ferrand festival. CM/SF : Les amours vertes (2015).