International Feature Films 2018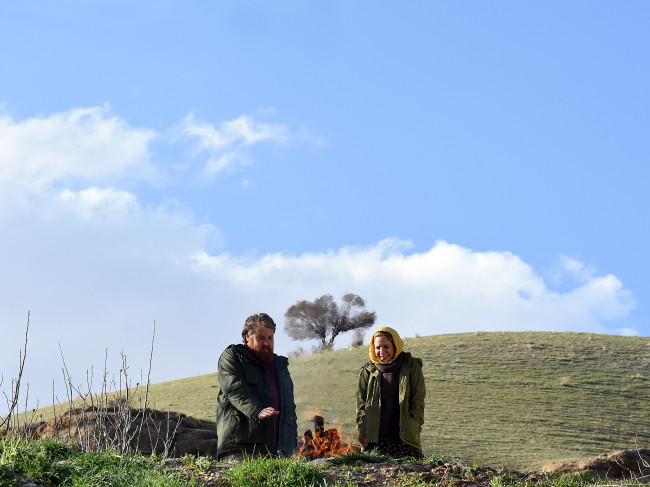 Reza and Fati separate after nine years of marriage. Reza who still loves Fati attempts to start a new life, but Fati will not depart from his life so easily. Reza is an author and starts writing a story about his ancestors who years ago immigrated to the historic holy city of Isfahan. His story begins with a hundred-year-old man, abandoned by his family and left to die in the desert.
Reza, a writer and architect who is still in love with his wife, even though they are now separated, is going through a time of sheer uncertainty. This character reminds us of several other fictional characters, such as Woody Allen's, but is unexpected for contemporary Iranian cinema. The film universe developed around him is original and sensitive: 4/3 photography; soft and bright aesthetics of ordinary and holy places; impressive static shots. The strength of the narration and the lyrical tone takes this romantic comedy to another level. As Reza reads for the viewers classic Persian literature mirorring the storyline, the film questions the universal topics of death, loneliness and abandonment. (Charlotte Corchète)
Interprétation

Alireza Motamedi, Sahar Dolatshahi, Setareh Pesiani, Reza Davoudnezhad, Afsar Asadi, Solmaz Ghai, Pantea Marzanian, Nasim Mirzadeh, Forough Taebi
Scénario

Alireza Motamedi

Photographie

Ali Tabrizi

Son

Amir-Hossein Ghasemi, Rashid Daneshmand

Montage

Maysam Molaie

Musique

Shahram Nazeri, Sardar Sarmast

Décors

Keivan Moghadam

Production

Kiumars Pourahmad, Alireza Motamedi
Eurocks One+One award
CONTACT:
Iranian independants, Mohammad Atebbai
info@iranianindependents.com

Alireza Motamedi is a graduate of Persian Literature and he's been involved as a writer, poet, film critic and scriptwriter during 20 years. He's written scripts for more than 20 feature films and TV series and Reza is his debut feature film.